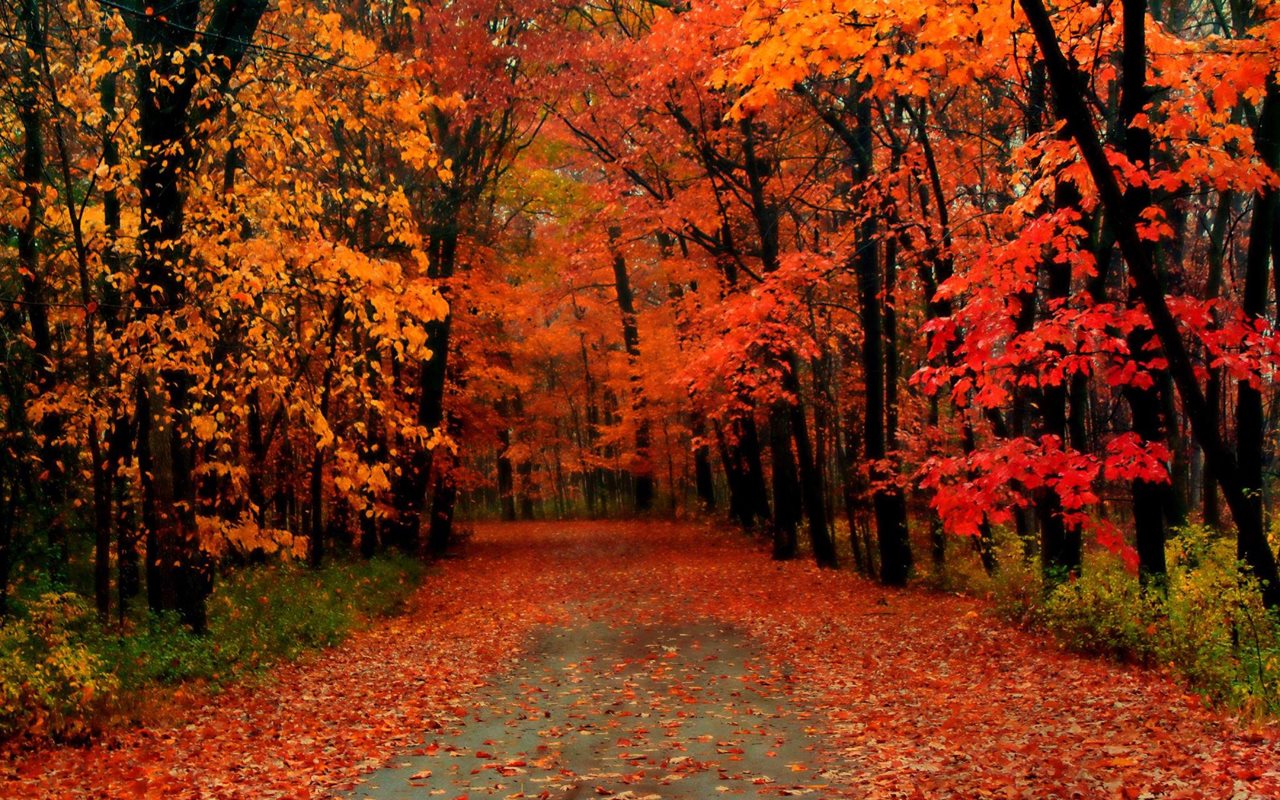 (BPT) - It comes as no surprise that apple cider is a star flavor of the fall season. However, this top flavor trend is about more than just sipping on a mug of warm happiness. This fall, people are thinking beyond the basics to reimagine this classic flavor in new ways that provide delectable twists that delight the taste buds.
Apple cider flavoring + bacon = love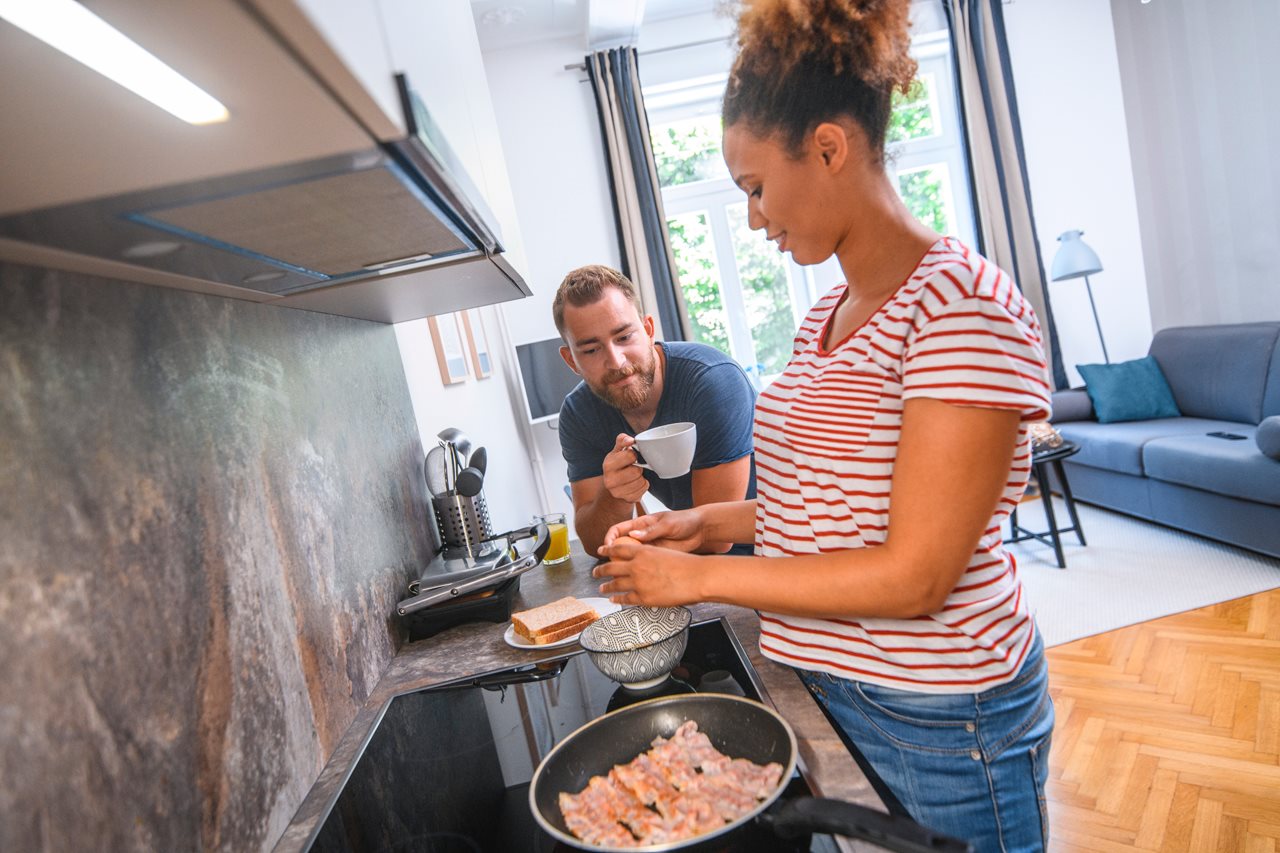 You've heard of Applewood smoked bacon, but how about HORMEL® BLACK LABEL® Artificially Flavored Apple Cider Thick Cut Bacon? This limited-time variety perfectly marries the ever-popular essence of America's fastest-growing bacon brand[i] with one of autumn's trendiest flavors. One bite and you'll enjoy a sweet, appley twist on the smoky, delicious taste of the bacon you already know and love.
No matter how you cook it, this bacon is great as a standalone for breakfast, brunch, snacks and more. Go a little further and explore the culinary possibilities of bacon and you'll see it can be used in so many more ways. Use it as a tasty garnish for drinks. Add a slice of fresh apple and apple cider flavored cooked bacon on top of burgers or in grilled cheese. You can even include it in desserts!
Apple Cider Artificially Flavored Bacon Lattice Pie
Apple pie needs no introduction, but when you top it with a stunning lattice pattern of HORMEL® BLACK LABEL® Apple Cider Flavored Bacon, you'll leave everyone in awe. The savory bacon is the perfect pairing to sweet, apple pie, making this dish a combination of lip-smacking flavors that leaves a lasting impression.
Interested in making this dish for your next dinner, potluck or tailgate party? Here are the details:
Servings: 8
Prep time: 15 minutes
Total: 1 hour 30 minutes
Ingredients:
1 refrigerated pie crust
8 Granny Smith apples, peeled and sliced (6 cups)
1/2 cup plus 2 tablespoons brown sugar, divided
1/4 cup all-purpose flour 2 tablespoons maple syrup, divided
1 teaspoon apple pie spice
1 teaspoon grated lemon zest
10 slices HORMEL® BLACK LABEL® Artificially Flavored Apple Cider Thick Cut Bacon
1 tablespoon apple cider
Directions:
Heat oven to 400 F. Lay pie crust in bottom of a 9-inch pie pan. Crimp as desired.
In large bowl, stir together apples, 1/2 cup brown sugar, flour, 1 tablespoon maple syrup, apple pie spice and lemon zest.
Transfer apple mixture into pie crust.
Weave bacon strips into a lattice on top of pie, trimming ends if necessary. Place pie on large, rimmed baking sheet.
In small bowl, combine remaining brown sugar and maple syrup. Stir in apple cider.
Bake 40 minutes. Brush bacon lattice with brown sugar mixture. Bake 10 minutes or until bacon lattice is crisped, apple mixture is bubbly and crust is deep golden brown.
Allow to cool completely before slicing.
Apple Cider Artificially Flavored Bacon and Brie Sandwich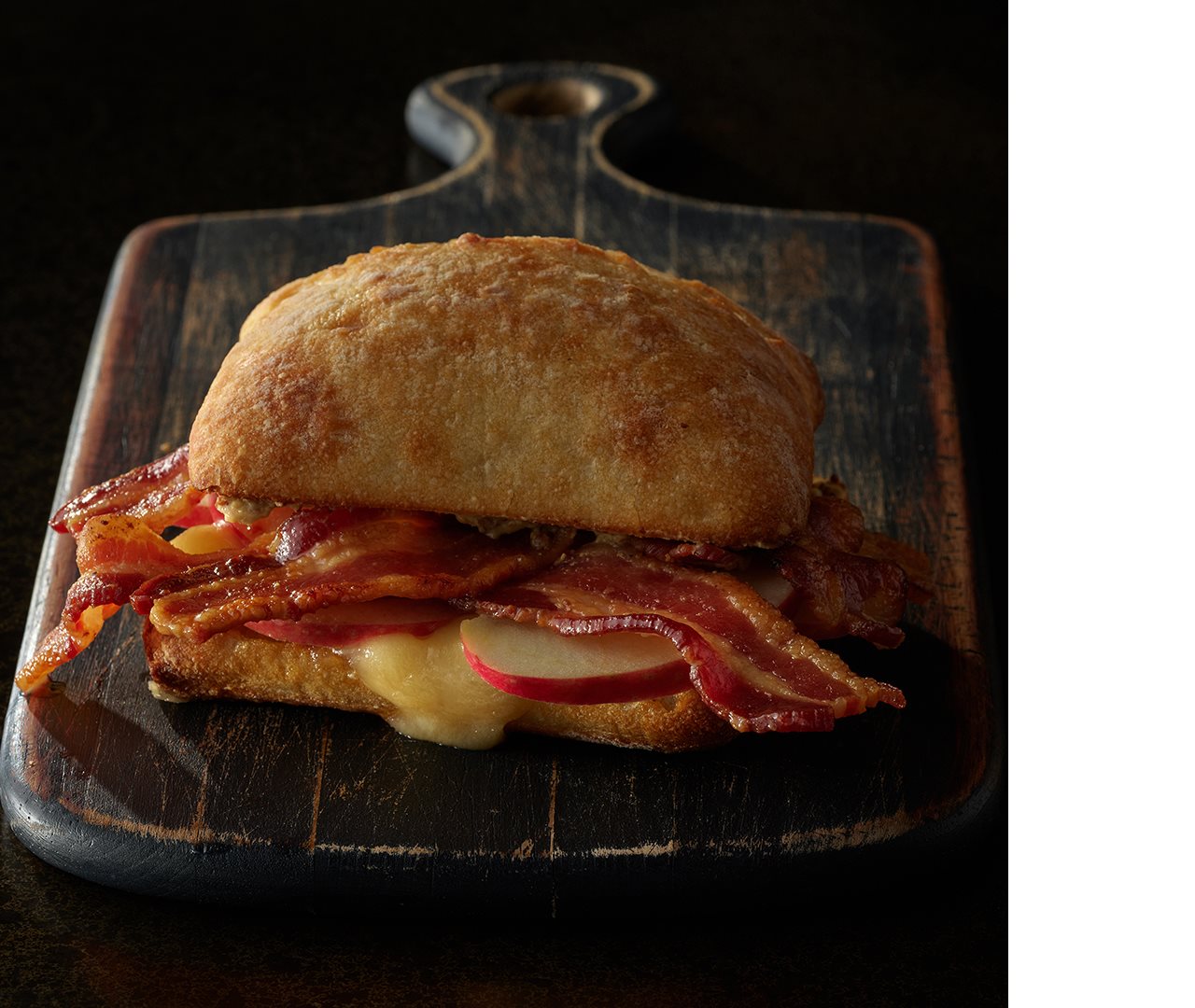 Now that your stomach is grumbling, do you want even more inspiration for using this limited-time bacon flavor? Everyone knows bacon goes great in sandwiches, but when you create a sandwich with complementary flavors like brie cheese and apple cider flavored bacon, you elevate the meal to a whole new level. Here's the recipe:
Servings: 1
Prep time: 30 minutes
Total time: 35 minutes
Ingredients:
1 ciabatta roll, split and toasted
Whole grain Dijon mustard
3 thin slices Brie cheese
1/2 apple, sliced
4 slices HORMEL® BLACK LABEL® Artificially Flavored Apple Cider Thick Cut Bacon, cooked
Directions:
Spread cut sides of roll with mustard.
Top bottom of roll with cheese, apple and bacon. Assemble sandwich.
More recipe and apple cider inspiration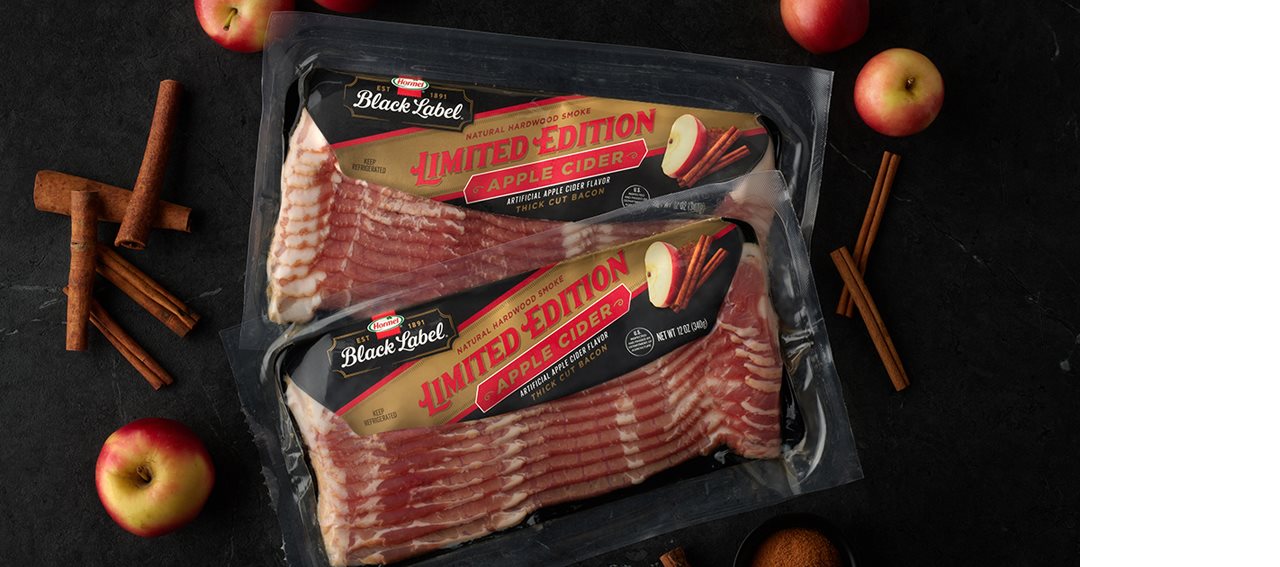 As a foundational flavor of the fall season, apple cider continues to gain popularity. In fact, did you know that November 18 is Apple Cider Day? Whether you embrace all things apple cider on this day or make it a season-long love affair, let the flavor and HORMEL® BLACK LABEL® inspire your snacks and meals. Try HORMEL® BLACK LABEL artificially flavored Apple Cider® Bacon at retailers nationwide and look forward to the brand's upcoming rotating limited-time flavor profiles. For more information and to explore additional recipes, visit Hormel.com.
---
[i] Circana, Latest 52 weeks ending 10/8/2023, Unit Sales vs YA