(BPT) - As we head into the holidays, there's nothing better than your favorite seasonal flavors. Peppermint candy cane, sea salt caramel, creamy hazelnut, gingerbread and more — all help you get into the spirit of the season and spread holiday cheer.
Whether you're looking to satisfy your own sweet tooth or stock up on tasty treats to gift to your loved ones, here's a roundup of bites and bars with festive flair that are perfect for fulfilling holiday wish lists and cravings: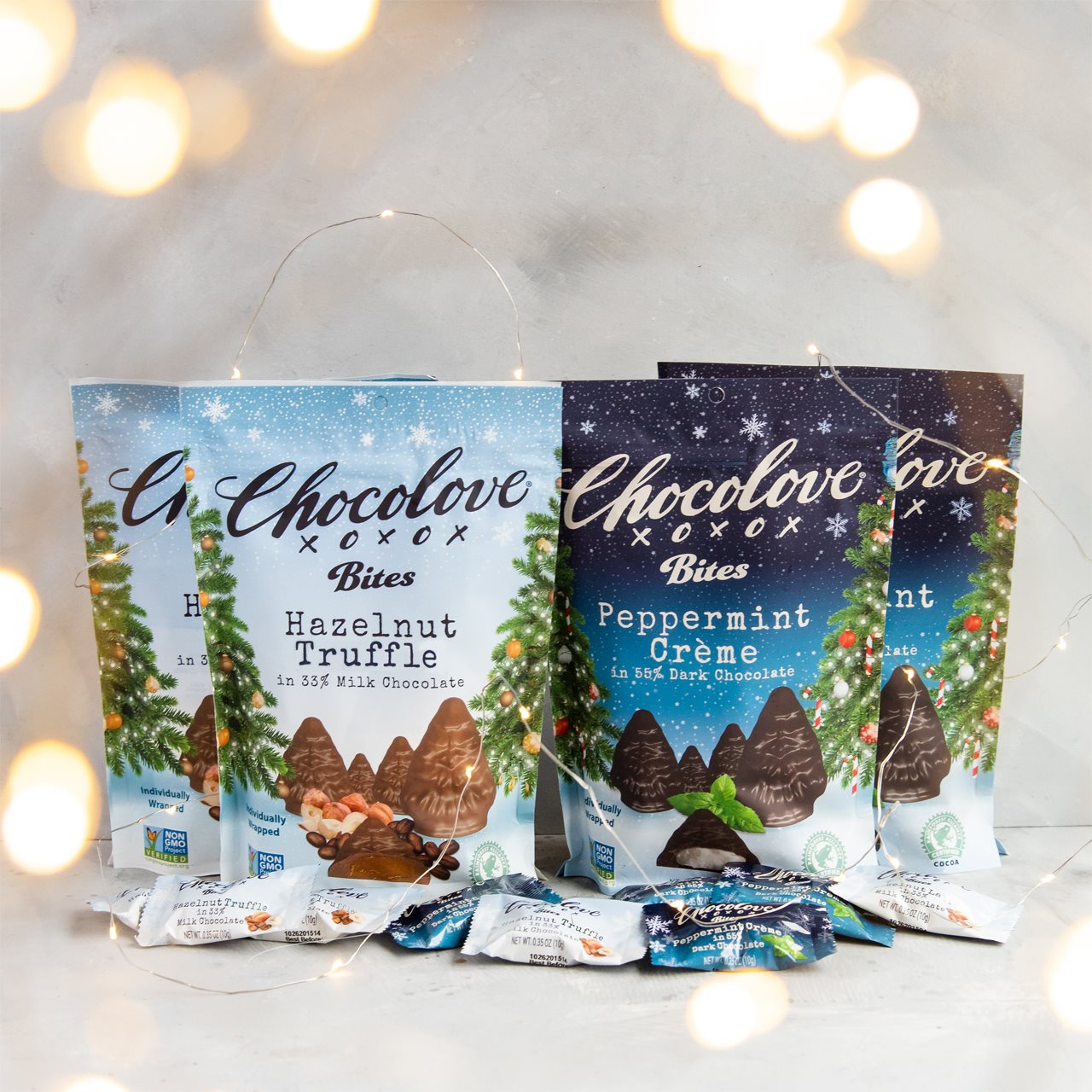 Chocolove Holiday Tree Bites: These individually wrapped Christmas tree shaped chocolates make great stocking stuffers. They are available in two flavors while supplies last:
Dark Peppermint Crème: A cherished holiday flavor combination, the vegan-friendly bites are made with exceptionally smooth 55% dark chocolate and refreshing peppermint oil.
Milk Hazelnut Truffle: This flavor is made with 33% milk chocolate, rich hazelnut butter and a touch of salt for that irresistible classic hazelnut taste.
Chocolove Holiday Collection Bars: Also available for a limited time are Chocolove's three holiday bars, which are a wonderful match for chocolate lovers who crave seasonal indulgences.
Fruit-Nut Medley in Dark Chocolate: A delicious twist on a classic holiday flavor, this chocolate bar is made with 55% dark chocolate, dried currants and cherries, pecans, walnuts, hazelnuts, orange peel and ginger for the ideal balance of flavor and texture.
Frosted Gingerbread in Milk Chocolate: Made with 33% milk chocolate and bits of real gingerbread, this is a chocolatey take on a classic holiday dessert.
Candy Cane Crunch in Dark Chocolate: Made with 55% dark chocolate and pieces of candy cane for a classic peppermint flavor that packs a nostalgic and rich holiday punch.
Chocolove's holiday collection is available at Sprouts, Albertsons, Raley's Supermarket, Whole Foods Market, Natural Grocers, New Seasons Market, Thrive Market, and Chocolove.com for a limited time.
If you're craving salty and sweet flavors, or perhaps a blend of fruit and chocolate, Chocolove also has many classic bars to choose from, available year-round at major retailers, Chocolove.com and Amazon:
Almonds & Sea Salt in Dark Chocolate: Made with 55% cocoa, the crunchy almonds and sea salt crystals make a tantalizing combination.
Salted Caramel in Dark Chocolate: You can't go wrong with salted caramel and chocolate. Made with 55% cocoa, this rich European chocolate delightfully complements the premium salted caramel filling.
Classic Milk Chocolate: A creamy Belgian milk chocolate blended with notes of caramel into a light cocoa finish that feels luxurious.
Toffee & Almonds in Milk Chocolate: Buttery sweet toffee and dry roasted almonds are enveloped in creamy Belgian milk chocolate; delicious with an afternoon cup of coffee.
Raspberries in Dark Chocolate: Crispy bits of freeze-dried raspberries burst with flavor in this light, semi-sweet dark chocolate bar.
Hawaiian Sea Salt in Dark Chocolate: Hawaiian sea salt provides a delicate and soothing complement to the 72% strong dark chocolate.
Looking for the perfect recipe for a cookie exchange, holiday gathering or to give to your next party host? Try out this Crinkle Cookie recipe that can be customized with your favorite Chocolove chocolate bar.
1 1/2 cups all-purpose flour
1/2 cup cocoa powder
1 1/2 teaspoon baking powder
1/2 teaspoon fine salt
2 eggs
1/2 cup white sugar
1/4 cup brown sugar
1/4 cup unsalted butter, melted
1 teaspoon vanilla
1 bar Chocolove Strong Dark Chocolate 70%, melted, or your favorite Chocolove bar
1 tablespoon granulated sugar
1 cup powdered sugar
Whisk together flour, cocoa, baking powder and salt in a medium-sized bowl. In a separate large bowl, combine eggs, white sugar and brown sugar. Add melted butter, vanilla and your melted Chocolove bar, stirring to combine.
Add flour mix to sugar mix and stir until just combined. Place dough in freezer for one hour to harden. Roll into ping-pong-sized balls, drop each ball into a bowl of granulated sugar, and then into a bowl of powdered sugar. Place sugared dough balls onto a parchment-lined tray and bake at 350 degrees for 10-12 minutes.
Choose Chocolove for all of your holiday gifting needs and entertaining plans this season. Chocolove chocolate is made with traceable cocoa beans, is non GMO Project Verified and Rainforest Alliance Certified, meaning the chocolate is sourced using methods that support social, economic and environmental sustainability.