(Family Features) Creating memorable moments and special meals with friends and family during the holiday season doesn't have to be overwhelming. While these festivities are often a favorite moment each year, the planning and preparation can be a bear for hosts. To help take some stress out of hosting duties, start with what you likely already have on hand, like eggs.
This year, simplify holiday gatherings by leaning into underappreciated ingredients that can make all kinds of recipes a cinch. After all, less time stressing over planning, shopping and prepping means more time to make memories that last a lifetime.
When it's time for a celebration, eggs are at the heart of many favorite recipes. They are an invaluable ingredient to hosts, delivering convenience and inspiration for hors d'oeuvres, baked treats, traditional dishes perfect for entertaining and more.
Eggs keep baked favorites (and festivities) from falling flat. In only 10 minutes prep time and with a few simple ingredients, you can make crowd-pleasing recipes like these Popovers with Cranberry Butter from best-selling author and international social media chef Shereen Pavlides.
Start by whisking the star of the show – eggs – with flour, salt and milk to a silky-smooth texture. Cover and refrigerate the thin batter for 6 hours, or overnight, then bake in a popover pan (or try a muffin pan) to warm, eggy, flaky perfection.
Then combine softened butter and cranberry sauce with a pinch of salt before spreading on the melt-in-your-mouth popovers. For an extra special touch, consider whipping up homemade cranberry sauce rather than using a store-bought version.
Whether it's served as an appetizer or light dessert, this savory-with-a-touch-of-sweet recipe can become part of your family's most cherished traditions, made possible by eggs. Remember, all it takes is the egg carton already in the refrigerator to be the "host or hostess with the most-est" and make memories with those who matter most.
Don't rule out the egg as a key ingredient for creating new experiences, memories and traditions this holiday season. Discover more benefits and recipes that go beyond eggspectations at IncredibleEgg.org/invaluableegg.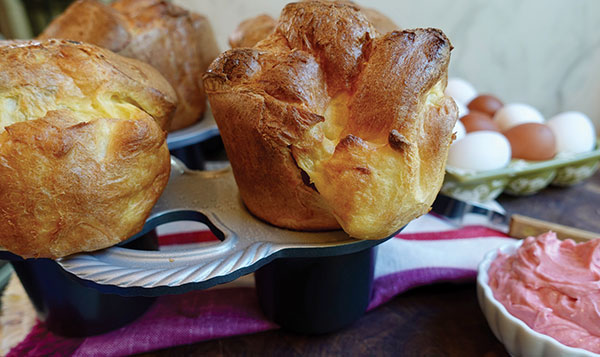 Popovers with Cranberry Butter
Recipe courtesy of Shereen Pavlides (@CookingwithShereen) on behalf of the American Egg Board
Prep time: 10 minutes
Cook time: 45-50 minutes
Yield: 6 popovers
Popovers:
1 1/3 cups all-purpose flour
1 teaspoon kosher salt
1 1/3 cups whole milk
4 large eggs
2 tablespoons avocado or vegetable oil
nonstick cooking spray
Cranberry Butter:
1/2 cup unsalted butter, softened
2 tablespoons cranberry sauce
1 pinch salt
To make popovers: In large bowl, whisk flour, salt, milk and eggs until silky smooth. Add oil and whisk to combine. Transfer to pourable pitcher, cover and refrigerate at least 6 hours, or overnight.
Heat oven to 375 F.
Place 6-cup popover pan in oven 10 minutes.
Remove pan and spray with nonstick cooking spray. Stir batter, divide and pour into cups, filling each 3/4 full.
Bake until puffed high and cooked through, 45-50 minutes.
To make cranberry butter: In medium bowl, mix butter, cranberry sauce and salt until well combined.
Remove popovers from oven and serve with cranberry butter.