(Family Features) Make this year's festivities truly memorable by adding a touch of sweetness to holiday celebrations with this delightful combination of fluffy cupcakes, creamy frosting and a heavenly caramel drizzle.
These Dairy Free Salted Caramel Cupcakes are a perfect cold weather confection that'll have everyone reaching for more. Made using Country Crock Plant Butter and Plant Cream, which are 100% dairy free, you can ensure there's something delicious for everyone at the table to enjoy.
As easy 1-for-1 swaps in favorite holiday recipes, Plant Butter and Plant Cream can be used in the same amounts as dairy butter and dairy heavy whipping cream. They cook and bake like their dairy counterparts, so your guests won't even know you've made the swap. Whether you or your guests are lactose-intolerant, vegan or simply trying to enjoy more plant-based ingredients, all can savor these rich, creamy flavors at your holiday table.
Find more holiday dessert ideas by visiting
CountryCrock.com
.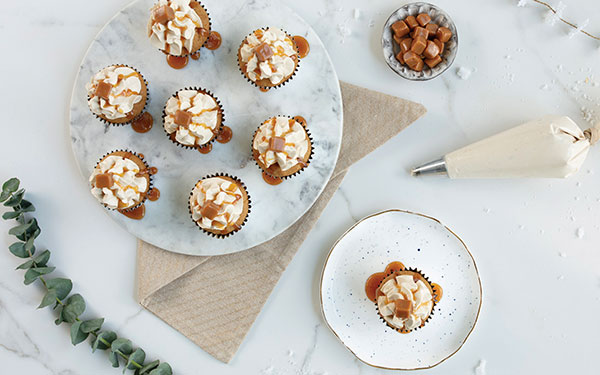 Dairy Free Salted Caramel Cupcakes
Prep time: 25 minutes
Total time: 1 hour, 15 minutes
Servings: 12
Salted Caramel:
2 cups granulated sugar
6 tablespoons Country Crock Plant Butter Sticks with Avocado Oil, at room temperature
1/2 cup Country Crock Plant Cream, at room temperature
2 tablespoons coconut oil
1/2 teaspoon salt
Cupcakes:
1 cup all-purpose flour
1 1/2 teaspoons baking soda
1 teaspoon baking powder
2 teaspoons cinnamon
1/2 teaspoon salt
1 cup (2 sticks) Country Crock Plant Butter Sticks with Avocado Oil, at room temperature
1 cup powdered sugar
1/2 cup brown sugar
2 teaspoons vanilla extract
1 cup Country Crock Plant Cream
Vegan Caramel Frosting:
1/2 cup (1 stick) Country Crock Plant Butter Sticks with Avocado Oil, at room temperature
1 1/2 cups powdered sugar, plus additional, if necessary
2 teaspoons caramel sauce, at room temperature
Country Crock Plant Cream, as needed
1/2 teaspoon vanilla
2 teaspoons caramel
salt flakes (optional)
caramel cubes (optional)
To make caramel: In medium, light-colored saucepan over medium heat, stir sugar constantly until evenly melted.
Remove pan from heat and add Plant Butter, Plant Cream, coconut oil and salt.
Return mixture to medium heat, stirring constantly, 1 minute. Turn heat to low, stir and cook until mixture is thick and smooth. If caramel separates, whisk vigorously until it's back together.
Pour caramel into heat-proof bowl, passing through fine mesh strainer to remove crystallized sugar. Cover and cool completely in fridge.
To make cupcakes: Preheat oven to 350 F. Line cupcake pan with liners; set aside.
In medium bowl, whisk flour, baking soda, baking powder, cinnamon and salt. Set aside.
In bowl of stand mixer, using whisk attachment, cream together Plant Butter, powdered sugar and brown sugar until light and fluffy. Add vanilla and cooled caramel, whisking on medium speed until combined.
Slowly add flour mixture, Plant Cream, scraping down sides of bowl until combined. Divide batter evenly into liners, filling each 3/4 full.
Bake until tops spring back when touched or toothpick inserted in center comes out clean, 18-20 minutes. Transfer cupcakes to wire rack and cool 5 minutes then remove from pan. Allow cupcakes to cool completely at room temperature.
To make frosting: In bowl of stand mixer, mix Plant Butter on medium-high speed about 1 minute.
Add powdered sugar and Plant Cream together about 1 minute then add caramel sauce and mix until fully combined.
Add vanilla then Plant Cream as necessary, 1 teaspoon at a time, while mixing to desired consistency.
Pipe frosting onto cupcakes, drizzle with caramel and sprinkle with salt flakes, if desired. Garnish with caramel cubes, if desired.