(Family Features) Once the table is cleared and gifts are put away, it's often time for one of the favorite moments of holiday gatherings. The taste (and smell) of those divine desserts you may only make once a year is enough to keep guests hungry even after the main course.
Put a new staple on holiday menus for years to come with this Cran-Raspberry Quinoa Pudding Trifle that combines fresh raspberries, vibrant cranberry sauce, orange juice and orange zest for a unique dessert. Ready in 30 minutes, it can be an easy way to impress everyone at the table with a creamy pudding base inspired by favorite winter flavors.
As a tasty treat that's ideal for just about any occasion, this take on rice pudding is made using Success Boil-in-Bag Tri-Color Quinoa, which offers a heat-safe, BPA-free and FDA-approved bag and is easily prepared in just 10 minutes. Its light, nutty flavor and versatility creates a pudding that's perfect for a wide range of pairings, from satisfying chocoholics or pumpkin-spice fanatics to whipping up a sweet, simple dessert.
For a comforting dish full of familiar cold-weather flavors, serve Pumpkin Pecan Rice Pudding Bars. Pumpkin-spice fanatics can enjoy their favorite ingredient mixed into a rice pudding base sweetened with coconut milk, brown sugar, vanilla extract, whipping cream and maple syrup.
This holiday-inspired dessert relies on the fluffiness of Success Boil-in-Bag White Rice as a high-quality, precooked solution. The boil-in-bag rice is quick and easy with no measuring and no mess, and it's ready in 10 minutes to make seasonal recipes a cinch.
Find more sweet holiday recipe inspiration at
SuccessRice.com
.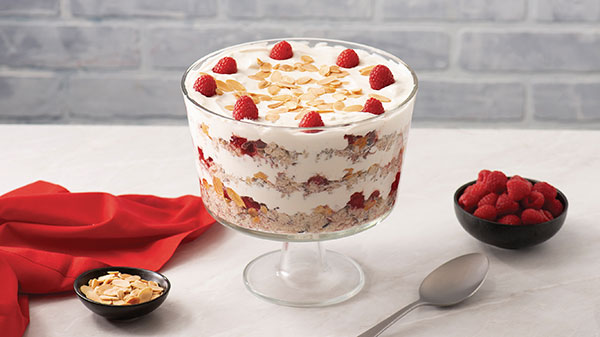 Prep time: 25 minutes
Cook time: 5 minutes
Servings: 6
Quinoa Pudding:
2 bags Success Tri-Color Quinoa
4 cups almond milk
3 tablespoons honey
1 teaspoon vanilla extract
1/2 teaspoon ground cinnamon
Creamy Yogurt Layer:
2 cups plain Greek yogurt
3 tablespoons honey
1 teaspoon vanilla extract
1/2 cup heavy cream
Cran-Raspberry Layer:
1/2 cup cranberry sauce
1/4 cup orange juice
1 teaspoon orange zest
2 cups fresh raspberries
1/2 cup sliced almonds, toasted
2 cups gluten-free vanilla cookies, chopped
1/2 cup fresh raspberries
To make quinoa pudding: Prepare quinoa according to package directions, substituting almond milk for water. Drain, reserving almond milk.
Remove quinoa from bags and stir into almond milk in saucepan over medium heat. Stir in honey, vanilla and cinnamon. Bring to simmer. Cook, stirring constantly, 5-8 minutes, or until thickened slightly. Refrigerate 45-60 minutes, or until well chilled.
To make creamy yogurt layer: In large bowl, stir yogurt, honey and vanilla. In separate bowl, beat cream until stiff peaks form. Stir whipped cream into yogurt mixture until blended. Refrigerate until ready to use.
To make cran-raspberry layer: In medium bowl, stir cranberry sauce, orange juice and orange zest. Gently fold in raspberries.
To assemble: In 10-cup trifle dish, layer 1/3 quinoa mixture, 2 tablespoons almonds, 1/3 cran-raspberry mixture, 1/3 vanilla cookies and 1/3 yogurt mixture. Repeat layers twice. Garnish with remaining raspberries and almonds.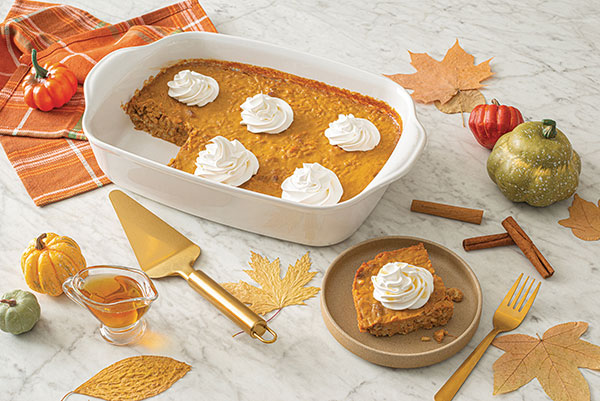 Prep time: 10 minutes
Cook time: 40 minutes
Servings: 4-6
1 bag Success White Rice
1 cup pecans
4 cups coconut milk
1 can (15 ounces) pumpkin puree
3/4 cup brown sugar
2 teaspoons pumpkin pie spice
1/2 teaspoon salt
3 eggs
1/2 teaspoon vanilla extract
1 cup heavy whipping cream
2 tablespoons maple syrup
Prepare rice according to package directions. Preheat oven to 350 F. Spread pecans on baking sheet and toast 8-10 minutes. Cool then chop.
In large saucepan over medium-high heat, combine milk, pumpkin, brown sugar, pumpkin pie spice and salt. Bring to boil, stirring constantly. Slowly add about 1/2 cup hot liquid to eggs and beat well. Stir egg mixture back into saucepan and cook over medium-high heat 2 minutes. Remove from heat and stir in cooked rice, vanilla and pecans.
Pour mixture into greased 13-by-9-inch baking dish. Bake, uncovered, 30 minutes, or until knife inserted near center comes out clean.
Whip heavy cream to soft peaks then add maple syrup and continue beating until peaks form. Serve with warm pudding.
Tip: For sweeter pudding, increase brown sugar to 1 1/2 cups.