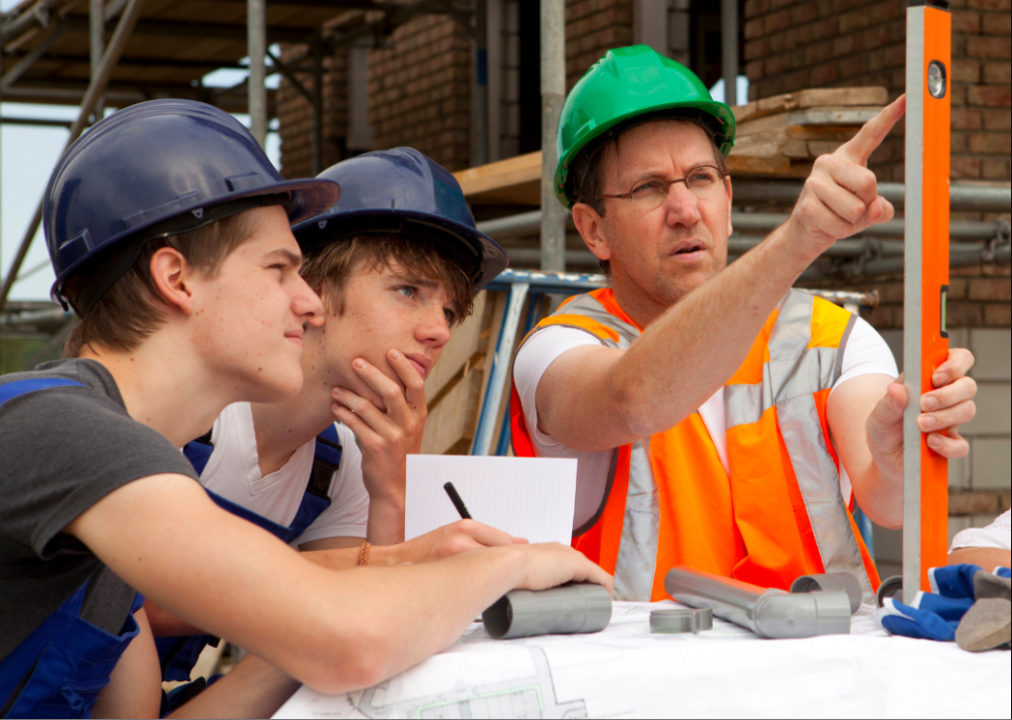 Canva
The high cost of higher education, long believed to be the pathway to success for young Americans, is yielding ground to an older, more traditional form of education: apprenticeships. The country's numerous historical and economic developments are driving factors behind this trend. The technological advances that emerged from World War II, and in the years following—as well as the G.I. Bill's tuition benefits for returning veterans—rapidly increased public demand for college education. In just seven years, from 1939 to 1946, total college enrollment rose by over 50%.
Until recently, the so-called "college wage premium"—the difference in income that college graduates earn compared to those without a bachelor's degree—had been steadily rising, reaching its peak in the mid-2010s. But since then, the premium has flattened and now is in decline.
A 2019 Federal Reserve Bank of St. Louis study found that the extra wealth attributable to college education is now at a historic low for white households and virtually nonexistent for racial minorities. This trend, coupled with the ballooning cost of college attendance, has made an undergraduate education a less attractive financial investment for many. Consequently, the overall college enrollment rate has fallen—especially for men, who are now outnumbered by women in the nation's colleges by a 3-to-2 ratio. One reason is that young men have more access to employment opportunities that don't require a college degree but are no less lucrative.
In this context, apprenticeships have become much more popular options for young people eyeing career opportunities. In 2021, 37.7% of active apprentices were aged 24 and under, and 39.7% were 25 to 34, according to the Labor Department. The annual number of new apprentices has risen by nearly 70% in less than a decade, and apprenticeship programs across the country have added over 2 million participants since 2012.
The nationwide shortages of electricians, construction workers, and other occupations that usually require an apprenticeship have played a major role in this boom. Additionally, apprentices are usually paid while learning, which is not the case in college.
Apprenticeships can be more flexible than college course schedules, too—and can typically be completed during military service. In fact, more than 112,000 service members are in the United Services Military Apprenticeship Program, which requires no off-duty hours and provides a nationally recognized credential upon completion.
Best Universities cited data from the Labor Department and the National Center for Education Statistics to explore why apprenticeship participation is increasing as college enrollment falls.
Number of active apprentices experienced steady growth over the past decade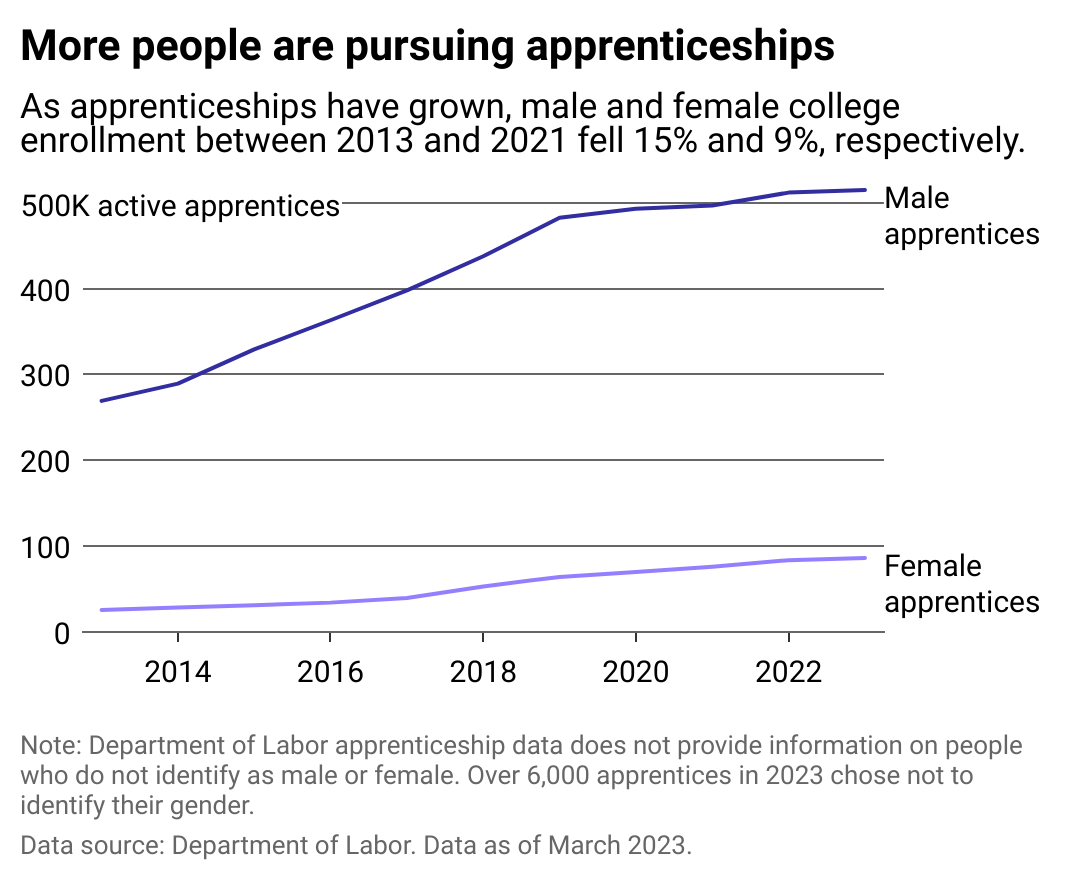 Best Universities
A bump in new apprenticeship programs between 2017 and 2020 has contributed to the growth in active apprentices, especially among men. At the same time, college enrollment among men has been falling faster than among women.
Most of the occupations requiring an apprenticeship have been historically male-dominated. In the United States, for example, 2.4% of electricians and 6.2% of construction workers are women, per a New York Times report and Zippia research. The gender imbalances in the blue-collar industries may have contributed to the low number of women apprentices.
However, 6,000 apprentices did not identify their gender in 2023, and the Labor Department data does not provide information on people who did not identify as male or female.
Story editing by Jeff Inglis. Copy editing by Paris Close. Photo selection by Ania Antecka.
This story originally appeared on Best Universities and was produced and distributed in partnership with Stacker Studio.